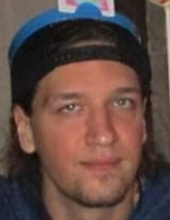 Obituary for Zachary Allen Swartz
Zachary Allen Swartz, 26, of Canadensis, passed away on Saturday June 29, 2019 Saint Luke's Hospital, Bartonsville.
Born May 12, 1993 in East Stroudsburg and is survived by his mother Karen E. Swartz of Canadensis;; and his father and stepmother Harry A. and Sandra Snedden of Stroudsburg.
He was a lifetime resident of Monroe County and is a graduate of Pocono Mountain East High School.
Zach was big hearted, hard working, loved music and would do anything for anybody. He was loved by all women.
He is also survived by his sisters Hailey Swartz and Torie Snedden; his maternal grandparents Diane and Blaine Swartz; His aunts Priscilla Kice and Amy Blitz, and may other aunts, uncles and cousins.
Funeral services will be private on Wednesday July 3, 2019 at the Bensing-Thomas Funeral Home, 401 North 5th Street Stroudsburg with Pastor Lynda Keefer officiating.