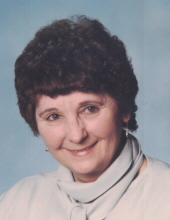 Obituary for Sarah K. Frantz
Sarah K. (Metropoulos) Frantz, 92, of Stroudsburg, passed away on December 26, 2019 at the Spring Village, Pocono. She was the wife of the late Bernard Louis Frantz, who died December 5, 2014.
Born December 16, 1927 in Stroudsburg, she was the daughter of the late George Metropoulos Sr and Mary (Butts) Metropoulos Mink.
She was an active member of the Church of Saint Luke, Stroudsburg; where she worked as the housekeeper in the Church Rectory for many years.
Sarah loved to clean, cook, and bake. She will be remembered by many for her Christmas Kourambiedes. Family was always everything to her and she adored her grandchildren.
Sarah is survived by her daughter Susan Frantz Wyckoff and her husband Thomas, and their son Holt, her son Michael Frantz and his children Cody and Abby, and her son James Frantz and his wife Susan and their children Kaila and Elias.
She was predeceased by her brother George Metropoulos Jr. and her sister Eleanor Siegfried. Her beloved sister-in-law, Rose Metropoulos, passed away the very next day, on December 27, 2019.
A Mass of Christian Burial will be celebrated on Thursday, January 2, 2019 at 10:00am at the Church of Saint Luke, 818 Main Street, Stroudsburg with Father Carmen J. Perry as celebrant.
Burial will follow in the Laurelwood Cemetery, Stroudsburg. There will be a viewing on Wednesday, January 1, 2019 from 4:00pm to 6:00pm at the Benisng-Thomas Funeral Home, 401 North 5th Street, Stroudsburg.
In lieu of flowers, memorial donations may be made to: The Church of Saint Luke, 818 Main Street, Stroudsburg PA 18360 or to the Alzheimer's Association, 225 North Michigan Avenue, Fl 17, Chicago IL 60601.