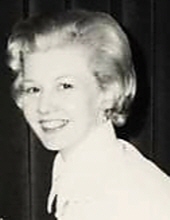 Obituary for Patricia Ann (Harris) Lewis
Patricia Ann ("Harris") Lewis 79, of Middle Smithfield Township passed away on December 31, 2019, in her home surrounded by family. Patricia was the wife of David P. Lewis, married on April 4th, 1959. Patricia was born on March 18, 1940 in Croydon, PA. She was preceded in death by her Mother and Father James R. Harris and Mary R. ("Dreaver") Harris. She was also preceded in death by her late sister Mary L. ("Harris") Koons of Jonas, PA and the late James R. Harris Jr. of Mt. Pocono, PA. She has been a resident of Monroe County since 1985. She was a member of the Church of St. John in East Stroudsburg (Marshalls Creek).

Pat and Dave owned and operated Lewis' Drive In in Marshalls Creek PA from 1985 to 2000. Patricia and David also owned and operated Lockhart Dairy Farm in Chalfont, PA which was in operation for more than 45 years. Patricia also owned and operated Pine Comb Beauty Shop in Pine Run Community in Doylestown, PA.

Patricia is survived by her husband of 60 years David Paul Lewis of East Stroudsburg, PA formerly of Chalfont, PA. Patricia is also survived by her 3 children, Daniel Paul Lewis and his wife Barbara of East Stroudsburg, PA, Edward James Lewis and his wife Darlene of Dillwyn, VA, and Linda Marie Lewis of East Stroudsburg. She also leaves behind 8 grandchildren. Heather Lyn Newett and her husband Kristopher Norris, Patricia Marie Newett-Mawyer and her husband Paul Mawyer. Daniel Paul Lewis Jr. and his wife Yasmeen Lewis, David Lawrence Lewis and his wife Janine Lewis, Kathryn Rose Unterberger, Eric James Unterberger, Richard Russell Unterberger and Travis Stark. She is also survived by 3 great-grandchildren, Isaac Ixsander Ortiz, Summit James Lewis, and Silas Norris.

We are heartbroken but comforted by our faith, knowing we will see her again one day as we enter into our eternal home.

Rest In Peace Mom. You are an angel now watching over us all as we grieve and celebrate the beautiful life you lived.

A memorial mass will be celebrated on January 14, 2020 at 1:30 pm at the Church of St. John, 5171 Milford Rd. East Stroudsburg, PA 18302 with Father Gregory A. Reichlen as celebrant.

In lieu of flowers, memorial donations may be made to the Church of St. John 5171 Milford Rd. East Stroudsburg, PA 18302. The Bensing-Thomas Funeral Home on North 5th St. Stroudsburg, PA is in charge of the arrangements.