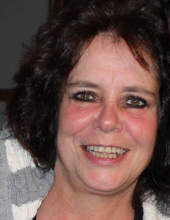 Obituary for Michelle Ann Shelly McCrudden
Michelle Ann "Shelly" McCrudden, 63, of Stroudsburg, passed away on January 13, 2020 at the Lehigh Valley Hospital - Pocono. She was the loving wife of Sean McCrudden Sr., they were married for 6 years.
Born October 22, 1956 in Orange, New Jersey, the daughter of the late John "Jack" and Maureen (Mulvihill) Kanaley. She was a resident of Monroe County for many years.
Shelly was a member of the George N. Kemp American Legion Post #346, East Stroudsburg.
In addition to her husband, Shelly is survived by her daughter Brea Nicole Lardiere and her companion Ryan Martens of Tannersville, her son Joseph Jack Lardiere and his wife Monika of Boonton, New Jersey; her 3 grandchildren Jarret, Nolan and Gabriella. Her stepson Sean McCrudden Jr.
She is also survived by her siblings, Terry, her twin John and his wife Karla, Kevin and his wife Maria, Keith and his wife Maria, Mark and his wife Donna, Rick and his wife Kim Michael and his wife JoAnn, and Irma. And many nieces and nephews and great nieces and nephews.
She was predeceased by her sister Kim Emery.
Friends and family may call on Friday January 17 2020 from 1:00pm to 4:00pm with a memorial service at 3:00pmpm at the Bensing-Thomas Funeral Home, 401 North 5th Street Stroudsburg with Pastor Margie Good officiating.
In lieu of flowers, memorial donation may be made to AWSOM, Animal Welfare Society of Monroe, PO Box 13, Stroudsburg PA 18360.