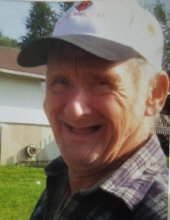 Obituary for John Albert Custred
John Albert Custred 79, of Gouldsboro, passed away on Wednesday January 15, 2020 a the Hospice of the Sacred Heart, Dunmore. He was the husband of Evelyn E (VanWhy) Custred they were together 54 years.
Born October 7, 1940 in White Haven, Pennsylvania, the son of the late John and Barbara (Isenbach) Custred. He was a lifetime resident of the Poconos.
He was a hard working man, and loved to fish and hunt. He also played guitar and had his own band.
In addition to his wife, he is survived by his children John VanBuskirk Sr and his wife Denise of Bloomsburg; Debbie Parry of Gouldsboro, Donna Skopil and Franklin Custred; his step daughter Elaine Tanner of Amarillo Texas.
His grandchildren, Ashley VanBuskirk, John VanBuskirk Jr, Brian VanBuskirk, Leroy VanBuskirk and Elizabeth Parry, and many other grandchildren and great grandchildren.
He is also survived by his siblings Kenny Custred and his wife Rose of Stroudsburg, William Custred and his wife Diane of Mansfield, and Kay Custred of Virginia; and many nieces and nephews.
John was predeceased by his son John Custred; his stepdaughter Donna VanBuskirk and his brother Gary Custred.
Friends and family may call on Wednesday January 22, 2020 from 1:00pm until the time of the funeral service at 3:00pm at the Bensing-Thomas Funeral Home. 401 North 5th Street, Stroudsburg with Pastor Margie Good officiating.
There will be a celebration of life gathering following the funeral service at the Moose Lodge, 705 Stokes Mill Road, East Stroudsburg (Stroud Township).