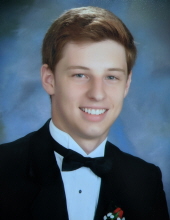 Obituary for Jake M Kelley
Jake Maxwell Kelley, 22, formerly of Stroudsburg, PA - With deepest sadness, and hurting hearts, our family has lost an amazing young man. Jake passed in a plane crash in Eugene, Oregon on Tuesday, August 27, 2019. He was born on March 24, 1997 in Philadelphia, PA. He is the son of Denise Kavert Kelley and Philip J. and Kelly Klingel Kelley. Jake was currently employed at Mallard Creek Golf Club in Lebanon, OR. Jake had just completed Wilderness EMT Certification to pursue his goal of spending winters on the Ski Patrol in Steamboat Springs, CO.
Jake will be remembered as a vibrant, free-spirited soul who marched to the beat of his own drums. His joy of the golf course was only surpassed by the exhilaration and freedom he so relished from days spent hiking, mountain biking and skiing. His infectious smile lightened your heart and brightened your day. He lived large, dreamed big and would want you to do the same!
Along with his parents, he is survived by his brothers Landon Kelley and Derek Klingel; grandparents Paul E. Kelley of Sayre, PA and Barry and Joanne Klingel of Stroudsburg; uncles and aunts Patrick and Patty Kelley of North Charleston, SC, Paul T. and Brenda Kelley of Athens, PA, John and Sheila Laurienti of CO and Eric Kavert of MT; and numerous cousins. Jake was predeceased by his maternal grandparents Jim and Solvie Kavert; and his paternal grandmother Emily Kelley.
There will be a visitation for family and friends on Saturday, Sept. 21 from 12:00-3:00pm with a moment of silence at 2:45pm at Bensing-Thomas Funeral Home, 401 North 5th Street, Stroudsburg. In lieu of flowers, memorial remembrances may be made to the Stroudsburg Little League PO Box 61 Stroudsburg, PA 18360.