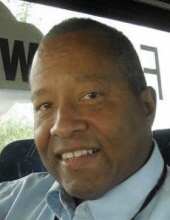 Obituary for Frank Ernest Bell
Picture

Frank Ernest Bell, 62, of East Stroudsburg, passed away on Sunday March 15, 2020 at his home with the love of his life Debora Loch by his side.
Born May 9, 1957 in Sharon Pennsylvania, his birth father was the late Frank Callahan, his mother the late Ernestine (Smith) Bell and his adopted father was the late Lorenzo Bell.
Frank was a graduate of Stroudsburg High School with the Class of 1975. He then Graduated from University of Michigan, and then attended East Stroudsburg University; where he excelled on the Football field He coached Youth Football for 2 years.
Frank worked for Monroe County Corrections for 20 years; he also worked fro Trans-Bridge Lines as a driver for more than 20 years.
Frank was a loving Son Father, Step grandfather, Brother and Uncle and in addition to his companion, Deb, he is survived b his stepdaughter Tarah Lorah and her husband Bill, and their children Eryk and Carter; his stepson Roberry Carter.
His stepsiblings Eric Bell and his wife Jewell Griffen, William Sayler and his wife Shelly, Lorenzo Donnie Bell and his wife Sandra; Tamera "Tam" Bell and her husband Craig Yeldell, and Leanine Coates and her husband Kelly; and 6 step nieces and 7 step nephews.
Memorial funeral services will be held on Saturday April 4, 2020 at 1:00pm at the East Stroudsburg United Methodist Church, 83 South Courtland Street, East Stroudsburg.
In lieu of flowers, memorial donations may be made to the family in care of the Bensing-Thomas Funeral Home, 401 North 5th Street, Stroudsburg PA 18360
Following the services the church, there will be a celebration of Life at the VFW Post #2540, 20 Fawn Road, East Stroudsburg, and as requested by Frank to be a Super Bowl Send Off!!