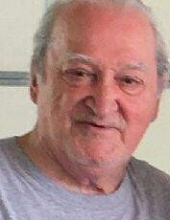 Obituary for Edward Pensyl
Edward James Pensyl Jr, 77, of Stroudsburg, passed away on Sunday January 26, 2020 at St Luke's Hospital, Bartonsville. He was the husband of Harriet Ann (Smith) Pensyl.
Born April 25, 1942in Stroudsburg, the son of the late Edward James Sr and Olive (Reed) Pensyl. He was a lifetime resident of Stroudsburg. He was a Hell of a hard worker, enjoyed going fishing and loved spending time with his family especially his grandchildren and great-grandchildren.
In addition to his wife, Harriet, Ed is survived by his children Edward "Eddie" Pensyl III and Tobi Pensyl both of Stroudsburg; his grandchildren Cody, Sammy, Brianna and Max Pensyl; his great grandchildren Lorelei , Cole, Dominac and Alanna Pensyl.
He is also survived by his siblings, Gloria Velez, Donna Hannson and Myron Pensyl.
He was predeceased by his other siblings, Gail, Patsy, Joan, Edwinna, Tom, Eric, Jim, Graydon and Diane.
Visitation will be held on Friday, January 31, 2020 From 11:00am-4:00pm at the Bensing-Thomas Funeral Home, 401 North 5th Street, Stroudsburg.
In lieu of flowers memorial donations can be made to the funeral home to assist the family with expenses.