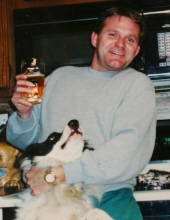 Obituary for Edward John Witchin
Edward John Witchin, 60, Cresco, passed away at his apartment Dec. 3, 2019. He was preceded in death by his parents John J Witchin, Sr , Ruth E Witchin, his brother Joseph Witchin, and sister in law, Karen L Moyer Witchin. He is survived by his wife, Christina (Allen) Witchin and his daughter, Samantha Jo Witchin both of East Stroudsburg. In addition, he survived by his brothers and sisters: John J Witchin, Jr (Jack), Freeland; Jean Bangor, Albuquerque, NM; Thomas Witchin and his wife Sharon, Freeland; Michael Witchin and his wife, Martha, Freeland; Alice Diehl and her husband, Harry, Finksburg, Md; and brother in law, Pasco (Pat) Bangor, Freeland. Also, surviving are many, many nieces and nephews, aunts, uncles, and cousins.
Ed was employed over the years in the telecommunications industry working for AT&T, Lucent Technologies, and several telecommunications contracting companies.
Ed enjoyed golf, darts, billiards, and bowling. He loved to watch Nascar and football. He also enjoyed target shooting and fishing. In his earlier years, he was active with the Eckley Sports and Social Club.
It was Ed's wish not to have services. He did not want a viewing or funeral. He wished to have all remembering him, as he was, when times were happy and festive. We ask that everyone remember him in the time when he loved life, friends, and family! Please always remember him young and living in the moment.