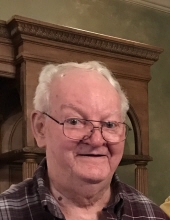 Obituary for E. Dale Robbins
E. Dale Robbins, 80, of East Stroudsburg, passed away on Saturday October 5, 2019 at the Lehigh Valley hospital - Cedar Crest. He was the husband of the late Martha "Marty" (VanAuken) Robbins, who passed away March 9, 2002.
Born July 2, 1939 in Newton, New Jersey, the son of the late Elmer and Annabelle (Woodburn) Robbins. He was a resident of Monroe County since 1972, and prior to that of Newton, New Jersey.
He was an avid hunter and fisherman
Dale was a Peacetime Veteran of the United States Air Force, where he was a jet engine mechanic.
Prior to his retirement, he worked as a Boiler Operator at East Stroudsburg University for many years.
Dale is survived by his daughter Joanne R. Barbera and her husband Nick of Stroudsburg, his son Chris Robbins and his wife Kim of East Stroudsburg; his grandchildren Amery Snyder and her husband Mike, J. P. Lim and his fiancé Ana, June-Ann Somma and her husband Gregg and Coy and Jordyn Zajac; his great grandchildren Dawkin, Seth, Brandi and Madison. He was preceded in death by his sister Evelyn Jacob and is also survived by his Aunt Doris Passmore and many nieces and nephews.
There will be a visitation on Friday October 11, 2019 from 10:00am until the time of a memorial funeral services at 12:00 noon, at the Bensing-Thomas Funeral Home, 401 North 5th Street, Stroudsburg with Pastor Margie Good officiating.
Burial will be private and at the convenience of the family in Prospect Cemetery, East Stroudsburg.
In lieu of flowers, memorial donations may be made to the Dale and Frances Hughes Cancer Center, 181 East Brown Street, East Stroudsburg, PA 18301 or The Shwachman Diamond Syndrome Foundation, PO Box 6723, Florence, KY 41022 or online.