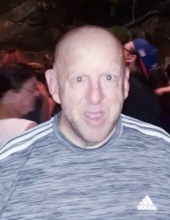 Obituary for Dayton Carl Turner
Dayton Carl Turner 56, of Kunkletown passed away peacefully at home on November 15th, 2019 from pancreatic cancer. Born in East Stroudsburg on March 7th 1963, he was the son of the late Barry L. & Nancy L.Turner. He is survived by his sister and caregiver Annie M.Turner of Kunkletown, brother Cory L. and his wife Sandra Turner of East Stroudsburg He also leaves behind a niece, nephew several Aunts, Uncles and cousins. Dayton had love for his favorite music and TV shows. He was a very friendly and caring young man and once he knew your name he would never forget you. Dayton enjoyed his rides to the local Walmart and once inside you could find him in the DVD section. Dayton is preceded in death by his brother Shawn ( Butter ) Turner and infant brother Perry Turner.
There will be a visitation on Saturday November 23, 2019 from 10:00am until the time of a memorial service at 11:00am at the Bensing-Thomas Funeral Home, 401 North 5th Street, Stroudsburg with Pastor Margie Good officiating.
In lieu of flowers, memorial donations may be made to the family in care of the funeral home.