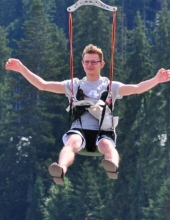 Obituary for Andriy Seredyuk
Andriy (Andrew) Seredyuk of Bushkill, PA died January 2, 2020. He was born August 18th, 1999 in the Ukraine. Andrew attended Hackettstown High School and is enrolled at the County College of Morris majoring in Nursing. He had just received straight A's this semester and was looking forward to continuing his education in the medical field.
Andrew is survived by his parents, Svitlanta Yanes and Mykhaylo (Michael) Seredyuk, step-father Edgar Yanes, step-mother Ivanka, step-brother Igor, Grandparents Olga and Volodymir, Uncle Roman, Aunt Kristina and cousins Dominica and Eva.
Andrew was a very bright, handsome, soft spoken, polite young man. He enjoyed math, chemistry, chess, reading and video games. We were truly blessed to have him in our life.
Services will be held Bensing Thomas Funeral Home Stroudsburg PA.