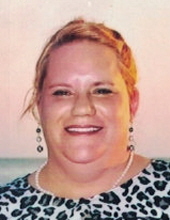 Obituary for Andrea "Andy" Bonfiglio
Andrea S "Andy" Bonfiglio, 47, affectionally known as Andy, passed away peacefully on Friday January 24, 2020.
Born December 15, 1972 in New Milford, New Jersey, the daiughter of Thomas Bonfiglio of Reeders and the late Theresa (Stanley) Bonfiglio.
In addition to her father, Andrea is survived by her brother Mark Bonfiglio and his wife Danielle Fleming of Dunmore.
She graduated from Immaculate High School in Somerville, New Jersey in 1990
Andrea loved listening to music, loved animals and spending time with friends and family. She loved shopping and purses, especially Coach which she has a collection of. Although her time with us was short, she will always be remembered by her big heart, big smile, sense of humor and her ability to love unconditionally.
Visitation will be held on Monday January 27 from 5:00pm to 7:00pm at the Bensing-Thomas Funeral Home, 401 North 5th Street, Stroudsburg.
A Mass of Christian Burial will be celebrated on Wednesday January 29, at 9:00am the Church of Saint Matthew, 78 Ridgeway Street, Stroudsburg
Interment will follow in the Saint Stanislaus Cemetery, Meriden, Connecticut.
The family would like to thank the Slate Belt Health and Rehabilitation Center, and Saint Luke's Hospice Care for the wonderful care they provided Andy when she needed it the most. The family would also like to thank the Salisbury House for their commitment to Andy and the mental health community.
In lieu of flowers, memorial contributions may be made to the American Cancer Society any non profit organization of your choice.